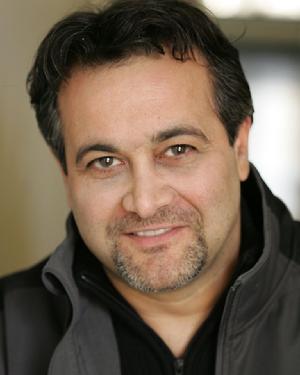 Garry Pastore
The Award-Winning Independent Film "Waiting for… BUDD" to be Screened In Los Angeles to Celebrate The New York International Film Festival's Award for Best Director- Documentary Film- Short Subject.
The Celebrated Film Will Be Showcased at the Culver Plaza Theater in Culver City on Friday, February 26, 2010.
Los Angeles, California, February 15, 2010: Garry Pastore and Deborah Mello, founders of Hudson Film Group, Jersey City, New Jersey, announced today that their award-winning documentary short film, "Waiting for… BUDD," will be screened at the Culver Plaza Theater in Culver City, California, on Friday, February 26, 2010. Garry Pastore, Director and Co-Producer of the film, won the award for Best Director in the category of 'Short Documentary Subject' in his directorial debut. The award was announced at the 2009 New York International Film Festival and is to be presented to Garry Pastore at the NYIFF celebration and awards party in Hollywood, California, on February 25, 2010 at the Cabana Club.
The short film tells the inside story of when a group of 20 actors staged a live performance of the legendary Broadway play, 'On the Waterfront,' during the summer of July 2009. The compilation of the 'behind-the-scenes' footage & interviews documents the actors, including 'Sopranos' stars Jason Cerbone, Vincent Pastore, Al Sapienza, and Robert Funaro, the producers and director Frank Licato, and what they experienced as they prepared to perform for two nights, outdoors, in Hoboken, New Jersey,.
The actors enjoyed beautiful weather the first evening, but were challenged the second evening during an "uninvited monsoon". Director Garry Pastore stated that the inspiration for his documentary came when the original screenwriter of 'On the Waterfront,' Budd Schulberg, unexpectedly attended the second evening's performance (at the age of 95.) The 1954 film 'On the Waterfront' was also shot in Hoboken, New Jersey, and eventually won eight Academy Awards including Budd Schulberg for best story and screenplay, Marlon Brando for best actor, and Eva Marie Saint for best supporting actress.
About one week after the July 2009 performances, Budd Schulberg passed away. To pay tribute to Mr. Schulberg, Pastore decided to title the short film 'Waiting for… BUDD.' "The movie is in honor of an icon, a great man, and a legend, Mr. Budd Schulberg."
Tere Morris plays a supporting role in William H. Macy's new film project, 'The Deal'.

Auditioned at casting agent Susan Edelman's office, Morris' portrayal of the zany, nervous character was described as "thinking outside the box" by producer Macy and director Steven Schacter. Usually cast in glamorous roles, Morris welcomed the opportunity to exhibit her acting ability by playing a contrasting character.

Los Angeles, California, September 18, 2007:

The screenplay of 'The Deal' (written by William H. Macy) is an adaptation of Peter Lefcourt's 1990 novel of the same title. The story focuses on the lead character Charlie Berns (William H. Macy), and his desperate attempt to comeback from the lowest point of his life and career. "The original story's twists, quirky characters, and unexpected transitions will translate well on the big screen", said Morris. Morris flew to the set's location in South Africa where the entire film was shot. "I enjoyed the comedic role that I played alongside the several 'big name' stars." said Morris. Morris portrays the role of 'Catherine', a hurriedly assigned, unconfident, 'bottom of the barrel', temp' secretary to the character, Charlie Berns. Morris states that her role in the story adds comic relief to the backdrop of a struggling film studio and its floundering wheeler-dealers. In addition to William H. Macy, Meg Ryan stars as 'Deidre', a savvy and tenacious studio executive. Other notable actors in the film include Elliott Gould, Jason Ritter, L..L. Cool J and David Hunt.

"Working with the entire cast of 'the Deal' was a fantastic experience" according to Morris. She added, "Director Steven Schacter brilliantly communicated his vision of the William H. Macy adaptation". Tere Morris' most recent acting role previous to 'the Deal' was the dramatic character 'Miss Patty' in a post Vietnam story, titled "Journey from the Fall" 2005. The film enjoyed being the official selection at Sundance.





'The Deal' Movie Poster

Tere Morris-'The Deal' Press Release
Captain Morgan Rum and actress Tere Morris… the perfect cocktail!
Tere Morris was awarded a principal acting role in the latest creative commercial for Captain Morgan Rum. The commercial film sequences were shot at the "Dresden Room", a historic Hollywood "hang-out".
The commercial is scheduled to be aired nationally and internationally.
Los Angeles, California:
The new Captain Morgan commercial was shot at the "Dresden Room" where the hit movie "Swingers" was filmed. While at the bar, patrons attempt to help fool a guy's girlfriend who un-expectedly calls him on his cell phone. When the "boyfriend" pretends to be television channel surfing, the impromptu cover-up from the un-related, diverse group, develops. One by one the patrons take turns mimicking a different television show in an effort to "explain" the background noise. Tere pretends to be on a fitness show as the instructor and other customers yell out typical "feel the burn" comments. The comedy comes from the camaraderie between a group of strangers who band together to help a fellow Captain Morgan Rum drinker.
Tere's diversely talented acting is demonstrated in the dramatic character she played in a post Vietnam story, titled "Journey from the Fall" 2005. The film is currently on a circuit run, and enjoys the official selection at Sundance. The sub-titled film was written and directed by Vietnamese born Ham Tran (An Old Photo Films). It is a perspective from the point of view of the American supporters left behind after the airlift at the end of the U.S. involvement. Tere Morris plays the part of "Miss Patty". The film is a story of the hardships endured by a family and their ultimate emigration to America, where they re-unite.
Also a stage performer, Tere played the part "Lilith" opposite Ed Asner (as God) in 'Yiddish She-Devils" 2005.
Jeremy Zall at Kolstein Talent Agency (N.Y and L.A) represented Tere Morris in securing a lead role in the Captain Morgan rum commercial.
Tere Morris Captain Morgan Press Release

Tere Morris 2006

FILM

Mysteries of the Apocalypse Supporting Indpt Dir: Sophia Andrew

Journey From The Fall Supporting Indpt Dir: Ham Tram

TELEVISION

Out For Revenge Co-Star Pilot Dir: Richie Mac

AMC Hollywood Special Guest Star AMC Dir: Jack Coffey

Fox NFL Morning Show Guest Star FOX Dir: Jeff Hare

HOSTING/SPECIAL APPEARANCES

Merv Griffin's Young Musicians Benefit Auctioneer/Special Guest Star

SOS Taste of the Nation Auctioneer/Special Guest Star

San Francisco 49ner Special Auctioneer/Special Guest Star

Jewish National Fund Benefit Auctioneer/Special Guest Star

THEATRE

Yiddish She-Devils -"Lillith"-La Weekly Pick 2005 @ Santa Monica Playhouse Dir: Nicole Berger

Picnic for Two - "Louise" @ The Buckhead P.A.C. Dir: Jason Lazarus

TRAINING

Dee Wallace Stone Master Class - Cold Reading Intensive

Improv Olympics, LA - Level 1 Improv

Deke Anderson Master Class - Film/TV Technique/Scene Study Intensive

Alan Feinstein - Scene Study

Special Skills

IFB, Teleprompter, Award Winning Equestrian, Licensed Auctioneer, Salsa, Swimming, Snow Skiing,

Tennis, Yoga, Dialects -Southern & English.



Released in November 2006, this wildly popular Captain Morgan Rum commercial features Tere Morris as the blond bar patron diva that suddenly impersonates an aerobics instructor to help another bar patron avoid trouble at home for being at the bar!
Please click on the link at right.

************************************************************************




Captain Morgan Rum commercial 2006

Dr, Raphael Nach is a board certified surgeon with a practice in Beverly Hills specializing in Ear, Nose and Throat treatments as well as cosmetic surgery. The recent press release linked below offers information to one of his latest procedures, Carboxytherapy. Listed below are Dr. Nach's qualifications:



Fellow: American College of Surgeons
Board-Certified: American Board of Otolaryngology/Head and Neck Surgery
Residency: Otolaryngology, Head & Neck Surgery, Tufts-Boston University, Boston, MA
General Surgery Residency: Tufts-Boston University, Boston, MA
Senior Internship: Primary Care, Emergency Medicine, Orthopedic Surgery and Otolaryngology
Internship: General Surgery and Internal Medicine
MD: University of the Witwatersrand Medical School, Johannesburg, South Africa
Advanced Training Includes: Rhinoplasty (cosmetic nasal surgery), blepharoplasty (eyelid surgery), sinus and ear infections, voice problems, tonsillitis, allergy testing and treatments, septoplasty, endoscopic sinus surgery, neck and head surgery, minimally invasive liposculpture, laser hair restoration
Member: American Medical Association, American Academy of Cosmetic Surgery, American Rhinologic Society, Los Angeles Society of Otolaryngology and Head and Neck Surgery




Dr. Raphael Nach

Dr. Nach and Carboxytherapy
Click picture for Harry Goodwin Press Release

Harry Goodwin photo by Paul Walker

Click picture for more Goodwin pictures photo by Michael Collins

Click picture for the Goodwin/Lennon story
David Matlock, M.D. press release

David Matlock, M.D.

The E! Entertainment Channel will feature Dr. David Matlock in the 4th season of 'DOCTOR 90210'.

After his successful 2nd and 3rd seasons, Dr. Matlock returns to 'Doctor 90210' for the 4th season premiering September 2006.

Los Angeles, California:

Dr. David Matlock is renowned for his innovative and patented surgical techniques. Originally a graduate in the field of gynecology, the E! Channel show will feature procedures he pioneered and patented in gynecological reconstructive and cosmetic surgery. In addition, Dr. Matlock's field of expertise includes unique applications of 'liposculpting', which will be demonstrated on 'Doctor 90210".

A decision to specialize in just two fields was one that facilitated his ability to pursue unusual pioneering applications of his knowledge. Dr. Matlock has developed 'Laser Vaginal Rejuvenation' otherwise known as 'LVR'. 'LVR' involves reconstruction and enhancements to the vagina to correct and/or improve the sexual experience. 'LVR' surgeries on the vaginal area are done mainly because of damage resulting from childbirth. Another procedure, 'Designer Laser Vaginoplasty' which Matlock pioneered and patented, helps improve the exterior appearance of the female labia. Several of Dr. Matlock's procedures will correct damage resulting from childbirth, obesity, ageing, and genetic aesthetic abnormalities. He also restores broken hymen (something considered very important in some cultures). Additionally, Dr. Matlock has developed a 'G-Spot' enhancement procedure with a patent currently pending.

Unlike many physicians who have embraced liposuction and added it to a whole 'menu' of cosmetic procedures, Dr. Matlock has specialized and makes liposuction his only other cosmetic procedure. He has performed more than 4000 liposuction procedures over a nineteen year period and honed the art of re-shaping disproportioned bodies, which may include reallocating fat, or 'fat transfer'. Some of his patients refer to him as 'Matlock the Maestro' in 'liposculpture'. Dr. Matlock uses the 'Vaser' system, a patented ultrasound liposuction procedure. The excess body fat is liquefied by the introduction of the special ultrasound assisted cannulae. This unique process makes fat removal much easier, with far less physical trauma to the surrounding muscles, veins, nerves, and organs. Dr. Matlock is now performing a 'Brazilian Butt' procedure where undesirable fat from other areas of the body is introduced to the high buttock area. He has performed this procedure and calf enhancement on both males and females. Dr. Matlock is only one of two physicians in the Los Angeles area who can successfully liposuction ankles and calves; a procedure requiring a high skill level and artistic ability.



Jerry Trimble February 2006 Press Release

Jerry Trimble 2006

Jerry Trimble, Jr. was born in Newport, Kentucky. At the age of 15 he was inspired by the late Bruce Lee and began studying the Korean art of Taekwon-Do. In six months he began teaching the art. At 16 he earned the rank of first degree black belt and became the number one point fighter in the Midwest United States. At 18, he started Kickboxing and won the Kentucky State Championship. In April 1979 Jerry moved to Atlanta, Georgia in pursuit of the World Championship.

Fighting under the name "Golden Boy" he won a slue of additional titles that included the Georgia, Southeast, U.S. Title; and on April 26, 1986 he became the PKA and PKC Kickboxing Champion of the World. He was rated by the international kickboxing media as the flashiest fighter and fastest kicker in the sport. (hook kicked was clocked at 118 MPH) He was awarded the rank of fourth degree black belt and hired by Inside Karate Magazine to write his very own column, entitled "Martial Arts a Way of Life." In April of 1990 Jerry retired from the ring and moved to Hollywood, California to embark on a career in the entertainment business.

Within a few months Jerry signed with a talent manager and landed his first two leading roles (in his first two auditions) in the same week. Since then he has been in over twenty feature films including Heat, (playing alongside Al Pacino) and Charlie's Angels (nominated for the Taurus Award in the category of best fight) He continues to fuel his ambitious drive into many different areas of the film industry that include acting, writing and producing. In 2001, Jerry and his wife/actress Ami Dolenz started KidPix Productions. They turn children's parties into a movie or TV production. In 2002, Jerry created his own children's self-development training program called C.H.A.M.P.S; teaching the values of Confidence, Health, Attitude, Motivation, Potential and Success. He's worked with children's charity organizations such as Athletes and Entertainers for Kids, Planet Hope, Kids Helping Kids, Children of the Night and many others.

For over 25 years Jerry has motivated and inspired both children and adults in all walks of life through his teachings, public appearances, seminars and accomplishments, encouraging them to realize their maximum potential and never give up no matter what. This was his inspiration behind the creation of "Socrates."